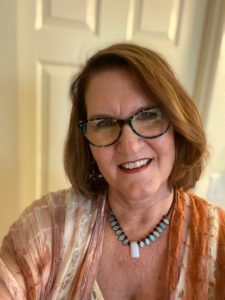 Phoenix artist Marie Howell is a creator of sacred art, exploring both 2D and 3D media. Her work is the result of the Intentional Creativity process as taught by artist Shiloh Sophia McCloud. Marie's paintings and sculptures are "downloaded" through deep connection and tuning in to her inner guidance. Each stage of her work is revealed in a step by step process as she listens within. She integrates traditional and non-traditional techniques and materials that express her original vision as she invites viewers into a personal encounter with her art that nurtures, transforms, and empowers.

She is currently working primarily in acrylic painting and "assemblage" sculptural collage, adding the decorative element of embellishment and adornment to both. Since Marie works at a deeply intuitive level, her pieces encourage reflection and speak to the heart.

Marie's art has been displayed in several local galleries and churches. She has been featured in Phoenix Home and Garden magazine and slides of her paintings were shown at the United Nations Conference on the Status of Women. Prints of her work can be obtained through Fine Art America under the name Marie Howell Gallery. Contact Marie directly for information about purchasing her original art.

Additionally, Marie is a certified Cosmic Smashbooking Teacher. Cosmic Smashbooking is an Intentional Creativity process and tool developed by artist Catt Geller. Marie offers both one on one and group workshops in Cosmic Smashbooking. "Smashing" involves an art journaling exploration that provides insights through writing, painting, and collage and requires only openness to having fun and witnessing what reveals itself through your unique personal guidance within. No artistic training or "talent" is needed to tune in to your innate wisdom and reap the benefits of this informative process. Much of Marie's Smashbooking focus revolves around the theme of Cosmic Peacemaking. Marie believes we are all being called to be a Cosmic Peacemaker both in our personal lives and in the world.

Marie also facilitates other creative exploratory classes upon request. She draws upon her many years of public education art instruction and counseling experience as she provides hands on creative opportunities for learners of all ages. Her students are delighted to discover their own unique talents and abilities as they explore the creative process and find new ways to express themselves for their own enrichment and enjoyment.